Open Data Northern Ireland looks to an Open Government future with Datopian
June 5, 2020 by Audrey Lobo-Pulo
As Open Data Northern Ireland (NI) roll out their new strategy focusing on more open data publications in the civil service and better community outcomes, the future for Open Government in NI looks bright with Datopian at their side. Our CEO, Paul Walsh, speaks to our clients Iain Fleming and Cormac McConaghy.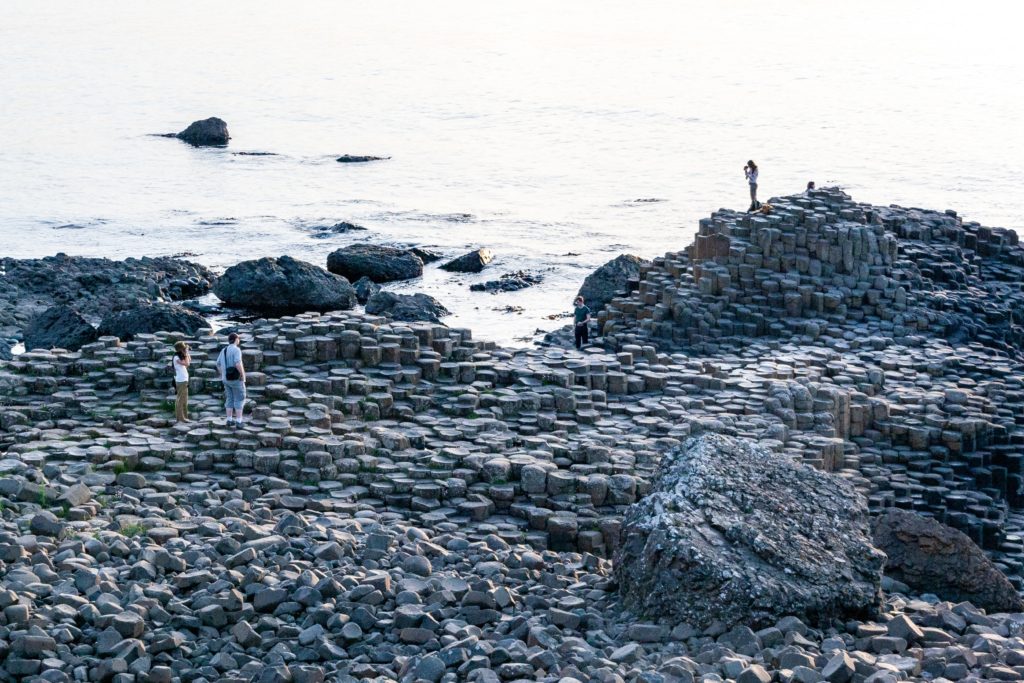 Photo by Dimitry Anikin on Unsplash
Paul: Could you both tell us a little about your role, and its relation to the open data portal?
Iain: I'm the Open Data Strategy Lead, and was brought into the team to refresh the original Northern Ireland open data strategy - and that makes me sound so much grander than I actually am, because it was a very collaborative team effort! And to tell you the truth, when I first joined the project in September 2018, I knew a little bit about open data, but I didn't know much about data science, data analysis etc.
The open data strategy was not widely known in the Northern Ireland Public Sector, so I had a lot of catching up to do when I first joined the team. I'm a sort of 'career' civil servant - I worked in the public record office, which is Northern Ireland's national archives and I left to join the welfare reform program for a little while, and then ended up with Cormac, John and the team (special mention for Jonathan in the team who really is the administrative hub that keeps everything working). So my job, now that we've written this strategy, is to promote it and try to convince the Northern Ireland public sector that open data and everything that it espouses is a good idea - with the ultimate aim of getting more material published to the portal, so that people can use it and reuse it and show the benefit of it.
Paul: Great. And how about you, Cormac?
Cormac: Well, I suppose my official title is Portal Manager, although I also support Iain with any sort of technical queries and helping implement the strategy. This means making sure that the cloud lights are on and the portal is live, as well as advertising its existence and trying to demonstrate to people just how simple publication is. You know, that was very much the original idea around using CKAN - even things like DCAT metadata standards, and making it as absolutely simple as possible for an organisation to take a dataset and put it on the portal. Whether they're hosting it directly or linking to it, we constantly go out talking to people saying: "You know what? It'll take me 2 to 3 minutes to create a dataset record from scratch and if you're going in and updating it's 20 or 30 seconds."
Cormac: Just to say it truly is that simple - we don't want it to be another level of complexity to what they do, we don't want it to take 10 minutes to publish - so we keep that neat and simple.
Iain: Yeah, in the strategy we talk about 'open data transparency' - we want it to become a business-as-usual activity in the public sector, rather than some kind of specialised 'techy-flavoured' task - so, if we can make the publication process as simple as possible for non-techy staff to use, then all the better! That's how we've been selling it as we've been going out in recent weeks.
Cormac: Have you had a chance to look at the new strategy?
Paul: I have, but could you tell us a bit about the new strategy, and how the activity on the portal relates to that?
Cormac: If we go back to the previous strategy, the portal doesn't exist. So we had a new strategy - but over the last three and half to four years, it has grown in people's awareness. And, if anything, more people will know about the portal than the strategy - it has more name recognition than the strategy, so it is the public face of open data in Northern Ireland. It's what the community knows - whether that's academia or the IT industry, developers, data analysts, data scientists or just interested in data, you know that they're aware of it. But we need to raise that awareness even more - and the strategy reiterates that.
Open Data NI features on NI Department of Finance blog
Iain: Yeah, and this time the strategy has concrete targets for data publication that it didn't have before. But also, we've established and just launched an "Open Data Innovation and Outreach fund", which we hope will publicise the portal and offer opportunities for people to develop apps and to promote open data. There's two strands to the fund: one is the technical development side; the other is the engagement and promotion side. There's grants of between £300 and £5000 available - the total amount is £30,000. We'll run that for each of the three years of the strategy - and, hopefully, if we see the anticipated increase of data being published to the portal, then the opportunities for re-using that data expand also. And the more data that gets published, the more opportunities can be taken - and more publicity arises, and we get to see more investment in what we're trying to do.
# "Simplicity is key. I've worked with other systems to publish data that were very onerous to use and very off-putting from that perspective - so keeping it simple and getting people to the data was key". - Cormac McConaghy
Cormac: Capturing these use cases is difficult, you know, you'll have senior leaders just brought in from the transparency angle. There's quite a good use case on a small business research initiative project - a project that was run by Belfast City Council around trying to identify commercial properties that were classified as vacant by our land and property services, but actually were occupied by commercial businesses that could have been paying rates or council tax. Open data played quite an important role in identifying these businesses.
It was run as an innovation project and they brought in £350,000 in unidentified rates in a fortnight! So when we show that to very senior directors and chief execs, we're getting a lot more buy-in. We're saying that there are potential opportunities here, to run businesses smarter and make better use of public money by releasing data.
Paul: Great! So let's come to ckan, and working with us. How did you come to choose ckan for the open data portal?
Cormac: We were very much looking to tie open source and open data together - it made sense! I was responsible for looking at the market at the time, and ultimately met with Rufus and Arturas - we had that conversation, spun up on the portal for 12 months and continued from then on with Datopian. We were impressed! Simplicity is key, I've worked with other systems to publish data that were very onerous to use and very off putting from that perspective - so keeping it simple and getting people to the data was key.
Paul: Originally, back when Rufus was CEO at the Open Knowledge Foundation, you actually engaged Open Knowledge Foundation then - who were the leading services provider for CKAN - and then we spun out to Datopian - and you've been with us since.
Cormac: Yes, it's the obvious route to be going - again, the simplicity of the links to the data, making it easily discoverable and downloadable, without too much complexity!
Paul: You mentioned the fund at the moment with the different grants that are going out - what other things do you see in the short term horizon around open data or the portal?
Iain: Well, we've set ourselves quite a task! We want to train every civil servant in Northern Ireland on the basic aspects of open data, transparency - and open government. We want to develop an online learning package with the civil services training provider.
When you join the civil service there's a whole suite of online learning packages that you should sign up to and read - the sort of things like information security, General Data Protection Regulation (GDPR), that everybody has to do. We want to develop something that's similar for open government, open data and transparency for the senior civil service.
It's really responsible and crucial to get the message out there. If we can get it to filter down from the top and get buy-in from them then it's easier for staff in the departments.
Cormac: In terms of training we have within our core civil service, we have about 22,000 civil servants. So from that point of view if we can manage the training and say, "here is an online training resource that every civil servant will spend 10 to 15 minutes being made aware of what open government is and open data is and what the connections are between those", it'll significantly raise awareness.
We could go to talk to a group of civil servants, and maybe 40 to 50 percent of them have heard of the open data portal, but their open government knowledge would be even lower, I would say, in the scheme of things. So it's really about raising awareness across the entire service.
Iain: We're quite fortunate here, in our local context, that we've got a Permanent Secretary in our department, who has totally bought into all areas of transparency in open government. Her name is Sue Gray and she joined us from the UK Cabinet Office - about two years ago - to lead our department.
As a consequence of issues like the Renewable Heat Incentive (RHI) controversy, transparency in government is at the fore of the public consciousness at the moment.
Cormac: We're trying to move towards other things like Open Budgeting. We're trying to push that we publish what we're spending money on - and open data could be added into resources like that.
Paul: We'd love to help with some of that, even in the scope of the portal work, like just the standardization of that data, because we've done lots of work on that over the years.
Cormac: Our partners are trying to get some of the spend data for the actual budget itself. We have very dry tables produced within pdfs. So we'd probably like to have that conversation with you at a later point, but fiscal transparency is one of our priorities.
Paul: Sure. So just thinking about what might come next from our work together, - one thing might be around fiscal transparency, because we've got lots of experience there… anything else you have in mind over the next year or so?
Cormac: I think what's key is to really show how we have changed. But fiscal transparency, where you know where money is going, is absolutely key. We have new governance arrangements that's made up of civil servants and the Open Government Network - so the relationships have been established, and their expectations to see results will be high.
Datopian delivers outstanding solutions that enable your organization to realise your data's potential. From hosted CKAN to customised data catalogs, from specialised data engineering to data strategy consultation, Datopian empowers your move from data to insight.
© Datopian (CC Attribution-Sharealike (by-sa))